2021 WSU / WSGS Viticulture Field Day
July 29, 2021 @ 8:45 am

-

11:30 am

$20
We are delighted to announce the 2021 Washington State University / Washington State Grape Society Viticulture Field Day. This will be an in-person event.
Event Details
When: Thursday, July 29
Time: 7:45 AM to 10:30 AM – This is a time change to accommodate for temperature forecast.  Registrants will be notified by the WSGS and Eventbrite about what to do if this change does not work for their schedule. 
Where: WSU Prosser IAREC – Roza Research Farm. Farm entrance at 117814 W Kuhlman Rd, Prosser, WA.
Cost: $20
Registration Link:  REGISTRATION IS CLOSED.

Event Description
This outdoor educational event will feature a series of educational rotations, with 25 minute stops at four themed stations.  On-site check in begins at 7:45 AM  and the event will be done by 10:30 AM
Station 1 – Canopy Cooling. Extreme heat can be detrimental to juice and wine grape quality. Learn how to mitigate heat stress using controlled evaporative cooling! Presented by Dr. Ben-Min Chang, Washington State University.
Station 2 – Irrigation for White Wine Grapes. White wine grapes have different irrigation requirements from red wine grapes. Learn how Riesling performs under regulated deficit irrigation and partial rootzone drying. Presented by Dr. Markus Keller and Geraldine Diverres-Naranjo, Washington State University.
Station 3 – Smoke Exposure.  Discover the latest in smoke exposure research, air quality monitoring networks, and mitigation approaches using barrier treatments. Presented by Dr. Tom Collins, Yue Hofmeister, and Mackenzie Aragon, Washington State University.
Station 4 – Scouting and Soils!

Powdery Mildew Scouting – Learn how to use the Glove Method for powdery mildew scouting and fungicide resistance testing. FRAME swag and kits for participants. Presented by Dr. Michelle Moyer and Maria Mireles, Washington State University.
Soil and Water – Soil texture changes percolation rates. Learn how that influences chemigation approaches.  Presented by Bernie Gagnier and Lexie McDaniel, Washington State University.
COVID-19 Precautions at WSU Locations
Per current WSU guidelines, we ask that you do not attend if you are experiencing COVID-19 symptoms. Participants are required to maintain a 6-foot social distance and wear a facemask unless they are fully vaccinated.
Host Organizations
This event is co-hosted by the Washington State Grape Society, and Washington State University Viticulture Extension.  Snacks provided by Inland Desert Nursery and water provided by Precept Wine.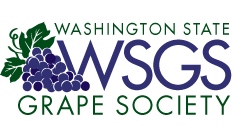 Anyone attending this program who requires auxiliary aids or services, please contact Michelle Moyer at 509-786-9234 or michelle.moyer@wsu.edu. Extension programs and employment are available to all without discrimination. Evidence of noncompliance may be reported through your local Extension office.