WSGS / WSU Viticulture Field Day
August 11 @ 8:00 am

-

11:00 am
We are delighted to announce the 2022 Washington State University / Washington State Grape Society Viticulture Field Day. This will be an in-person event.
Event Details
When: Thursday, August 11
Time: 8:00 AM to 11:00 AM
Where: WSU Prosser IAREC – Main Campus Vineyards.  Please plan to carpool to reduce total traffic to research sites.
Cost: $20
Registration is closed.
This event has been approved for 2 WSDA pesticide recertification credits.
Event Description
This outdoor educational event will feature a series of educational rotations, with 30 minute stops at four themed stations.  On-site check in begins at 8:00 AM  and the event will be done by 11:00 AM.
Station 1 – Assessing Coverage and Drone Spraying. Learn about state-of-art on UAV based spraying, including the types of platforms available, what nozzles they use, and their flight speed/altitude attributes (along with swath width). Learn about pertinent FAA and state regulations on drone spraying. This station will include a demonstration with a DJI Agras T20 drone, and attendees can see what the spray coverage looks like in a full-canopy vineyard.  Presented by Lav Khot, Washington State University.
Station 2 – Non-residue spraying – Ozone, Oil and UVC.  Come and see these alternative pest management technologies in action!  This station will demonstrate machines that apply ozonated water, heated horticultural oil, and UVC light. It will present information on the logistics of the machines and their efficacy for disease management in vineyards. Presented by Lexie McDaniel and Jake Schrader,  Washington State University.
Station 3 – Smart Spraying  & Solid Set Canopy Sprayers.  Different ways to apply pesticides, through the "Intelligent Sprayer" and Solid Set Canopy Delivery System  will be explained, including how they work and how they can be used to improve spray application. Both systems will be demonstrated in-field so participants can see the differences in how they function, including a visualization on total products that are used, and what their spray coverage is with these two application approaches. results will be discussed. Presented by Ramesh Kumar and Datta Bhalekar, Washington State University.
Station 4 – WSDA Japanese Beetle Update. Join Camilo Acosta of the WSDA, and Michelle Moyer with WSU, as they talk about Japanese Beetle biology, management, and upcoming WSDA eradication and quarantine efforts. A must-see for those farming in Benton and Yakima Counties!
Host Organizations
This event is co-hosted by the Washington State Grape Society, and Washington State University Viticulture Extension.  Water provided by Precept Wine.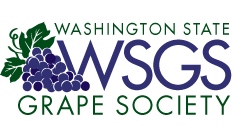 Anyone attending this program who requires auxiliary aids or services, please contact Michelle Moyer at 509-786-9234 or michelle.moyer@wsu.edu. Extension programs and employment are available to all without discrimination. Evidence of noncompliance may be reported through your local Extension office.
Related Events