2021 WSU / WSGS Viticulture Field Day
Save the date!
We are delighted to announce the 2021 Washington State University / Washington State Grape Society Viticulture Field Day. This will be an in-person event.
Event Details
When: Thursday, July 29
Time: TBD but most likely in the late afternoon.
Where: WSU Prosser IAREC
Registration Information: Coming soon!
Event Description
While we are still finalizing topics, we will likely be focusing on vine canopy cooling, alternative approaches to deficit irrigation, and smoke taint updates.  A final agenda will be posted by 1 July 2021.
Host Organizations
This event is co-hosted by the Washington State Grape Society, and Washington State University Viticulture Extension.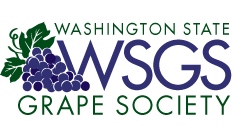 Anyone attending this program who requires auxiliary aids or services, please contact Michelle Moyer at 509-786-9234 or michelle.moyer@wsu.edu. Extension programs and employment are available to all without discrimination. Evidence of noncompliance may be reported through your local Extension office.
Related Events